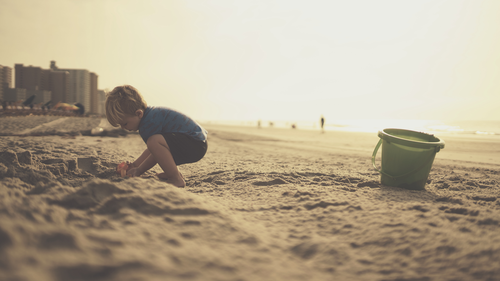 "We are half-hearted creatures, fooling about with drink and sex and ambition when infinite joy is offered to us, like an ignorant child who wants to go on making mud pies in a slum because he cannot imagine what is meant by an offer of a holiday at the sea. We are far too easily pleased."

— C.S. Lewis, The Weight of Glory
The quote from C.S. Lewis above is quite popular. I have read it in many books, and there is a reason for the endorsement of these profound words. Lewis is getting at something that is at the longing of all of our hearts. A sense of joy that goes beyond the bounds of circumstances and the perceptions of our worldview. A joy that can only be satisfied in one thing, and one thing alone.

Jesus, as He is addressing His disciples one last time before His arrest, says these words in John 15:9-11, "As the Father has loved Me, so have I loved you. Abide in My love. If you keep My commandments, you will abide in My love, just as I have kept My Father's commandments and abide in His love. These things I have spoken to you, that My joy may be in you, and that your joy may be full."

Jesus claims that infinite joy or joy in fullness is found only in Him. Specifically, joy is found abiding or remaining in Him. There also seems to be something else that is synonymous to abiding in Jesus - obedience.

In our culture, obedience has become weakness in many eyes. We are told if we want joy, then climb the ladder, focus on our own development and don't let anyone get in our way to reaching the "big leagues". Jesus is contradicting that philosophy. He says that if we want real joy and not the facade of our own making, then "keep My commandments for by doing this you are abiding in Me".

Obedience is the by-product of trust, and by abiding in Jesus we learn to trust that He is the source of joy and so much more.

Jesus sums up obedience with one command, "Love one another as I have loved you" (John 15:12). So, how do we experience this joy that Jesus offers us? May we abide in Him, walk in simple obedience and find out.